Luxury Hair Days
April 8, 2016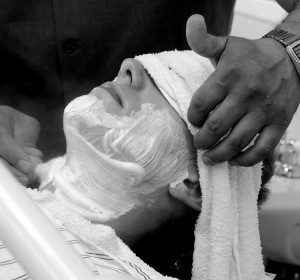 Women visit spas and salons all the time for hair treatments just to tidy up or enjoy a relaxing hair wash, like a massage to their temples. They go for massages and manicures; hair colors and girls' retreats where they spend 2 hours being pampered with five of their closest friends. Why can't men enjoy luxury treatment if they are so inclined? Actually, they can.
More than the Barber: Luxury Hair Spas
You've heard of a day spa; now visit a hair spa. Men are taking advantage of extended services which start with a shave or a hair cut but end with their feet up, a hot towel around their faces, and salon-quality products being rubbed into their shoulders. A hairdresser will blend naturally gray hair with blonde or brown; buff a guy's nails for him; and even serve refreshments. We're not just talking about a cup of drip coffee here but Barista-quality java and crafted snacks, possibly even cigars if you walk into the right establishment.
For the Groom
A lot of barber shops and salons advertise specials for the groom's big day, but did you know there are businesses which offer private treatments for grooms and their ushers? There are rooms set aside so they can all have their hair and beards cut or trimmed at the same time, enjoy the aroma of top-quality spa lotions, and let a professional masseuse rub essential oils into their shoulders in order to relax before saying "I do" the following day. Book a minimum number of males into the private suite and you can have the space to yourselves plus a wedding videographer if you wish. The bride and her bridesmaids are doing the same thing two doors down at the salon, so men are just claiming their piece of the relaxation.
For Every Man
You don't have to be preparing for a special day to try out one of the new services beyond the barber shop floor. Book facial treatments in a quiet darkened room where you still get the hot towel treatment after your shave, but services continue with a homeopathic scalp massage. Why not? This is a great gift idea for a guy who likes the finer things in life. Take off your socks for a pedicure and have those ragged nails sorted out before sandal season.
Barber Shop Basics
While some barber shops are expanding what they offer, they still promote simple services at lower prices than salons can charge. If all you want is a cut and shave, that's all you'll get. Trained barbers won't forget how to look after their regulars even as new trends arrive on the scene. Besides, a lot of those services are based in big cities, not where you go for the affordable, reliable shave and snip.