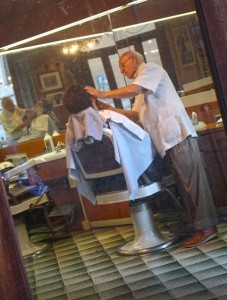 A barber shop is a place where men can come in and talk about cars or trucks without listening to women gabble about whatever women talk about. It's the spot dads bring their boys for a first haircut; a special moment to share with the regulars. There's a different atmosphere when you go to your local barber than an out-of-town salon. You're not coming in for a hair color and exotic style of trim and we might know you by name. If a shave and haircut is what you want, drop into our Delaware barber shop and say hi. We're glad to know you.
Local Delaware Talk
Barbers are like bartenders: they hear everything. Clients become friends. Rest assured we won't air your dirty laundry, but there is that same familiar atmosphere here where regulars share the next installment of their renovation dramas or what the baby is doing now. In a way that's part of the service, one we don't advertise or charge anything for. We respect our clients and they come back again and again.
Delaware Barber Services
Our Delaware barber shop is proud to offer several basic services and some deals. Ask about rates for seniors and kids. If you are serving in the military, let us know. We will treat you right. We can even accommodate a cut, buzz, or beard trim outside of regular hours for an extra fee. Even then, our rates are very reasonable. Most of the time you can expect to be in and out within an hour, even half an hour, but not because we're slap-dash: we just know what we're doing and men know what they want.
Something Special
What's coming up in your life: a wedding, prom night, or Christening? Perhaps you have a good reason to get ship-shape and looking your best. We'll help you look snappy and tidy by concentrating on the topmost part you; the part people see first.
Always Included; Student Deals
We don't forget the details, like a hot towel and a proper shave right up the neck. You won't leave our shop looking misshapen. There's also a discount if you are willing to act as a model for students learning to become professional barbers. They do a good job, so don't worry so much.
Advantage of a Local Delaware Barber Shop
You could visit the city salon where they handle fancy cuts and colors, but they charge a lot more for all of those fancy services and smelly potions. We keep things simple, affordable, and accessible. Our barbers can still provide a detailed and decorative pattern when we shave your head, but you don't have to book an appointment a week in advance or even make an appointment at all: just walk in, take a seat, and read a magazine while you wait.