Barber Services
April 8, 2016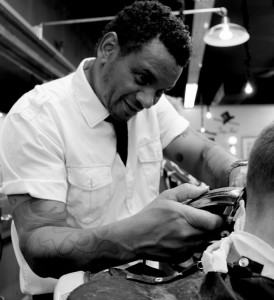 When women visit the hair dresser, they like to chat, explore new hair styles in big color books and magazines featuring the latest trends, and even have their nails done. A hair salon is so much more than that these days and so is a barber shop. Men love to be treated to a relaxing shampoo, manicure, or massage too; luxury isn't for women alone. What services can a guy hope to find at a modern barber shop?
The Guy in a Hurry
When you only have half an hour to spare and your beard looks just fine, take this opportunity to get a massage. A half hour in the chair costs around $40 to $60 depending on whether that's a Swedish or Deep Tissue treatment. Hour-long, luxurious massage is also available when you're not in a rush.
The Sports Fan
Kick off your shoes and let a professional deal with those messy toes of yours. This is a massage and pedicure all in one with the massage chair turned on, a TV showing whatever the sports channel has to offer, and a professional working out the kinks in your sore feet after clipping toenails that got out of hand. That's about half an hour's worth of luxury priced around $25.
The Salesman
A salesman works with his hands, but not in the way a carpenter does. He shakes a lot of hands and people assess the state of his fingernails as much as the strength of his grip. Long or dirty nails are as unappealing as a weak handshake. Let a manicurist look after messy cuticles and ragged nails in under 30 minutes for less than $20.
Gray Area
Gray hair is making you look older than you feel, so why not do something about it? A little gray is distinguished so go for a blend, retaining part of your natural color but working in a different color too. This service takes about a quarter of an hour and costs less than $25.
Upgrades
Start with a basic cut and add on a treat for yourself like a hot-towel shave that will leave you feeling spoiled. While your hair is being conditioned, let the heat work out muscles where you clenched your teeth during a recent board meeting.
For Kids
Bring your child in for a cut and blow dry. Prices and services are graduated, taking into account that twelve year-old boys have a sense of style and no longer let mom pick out their hair styles for them. Your barber also honors men in their senior years, who are part of the military, or who work for emergency services by providing lower-price cut and shave prices. Buy your guy a gift certificate starting at $20 so he doesn't have to think about the cost of luxury.